Sausage and Bean Ragout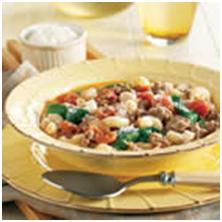 This hearty and colorful stew is packed with sausage, onion, tomatoes, beans, pasta, spinach leaves and Romano cheese.
Categories:
Ingredients
2 tablespoons olive oil
1 pound ground beef
0.035 oz
removed
1 large onion, chopped
4 cloves garlic, minced
3 1/2 cups Swanson® Chicken Broth
(regular, Natural Goodness™ or
Certified Organic)
1/4 cup chopped fresh basil leaves
2 (14.5 ounce) cans diced tomatoes
seasoned with garlic, oregano and basil
1 (16 ounce) can white kidney beans
(cannellini), rinsed and drained
1/2 cup uncooked elbow pasta
1 (6 ounce) package fresh baby spinach
leaves, washed
1/3 cup grated Romano cheese
Directions
1.Heat oil in saucepot over medium-high heat. Add beef, sausage and onion and cook until meats are browned, stirring to separate meat. Add garlic and cook 30 seconds.
2.Add broth, basil, tomatoes and beans. Heat to a boil. Cover and cook over low heat 10 minutes, stirring occasionally. Add pasta and cook until pasta is done.
3.Add spinach and cook just until spinach is wilted, stirring occasionally. Remove from heat and stir in cheese. Serve with additional cheese.
Nutritional Information
Not Available:,