Ratatouille Soup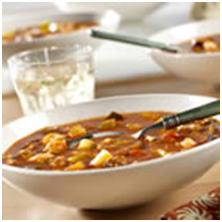 A delicious, hearty soup packed with beef, pasta, eggplant and zucchini, that's ready in just under 45 minutes
Categories:
Ingredients
1 pound ground beef
1 (24 ounce) jar Prego® Traditional
Italian Sauce or Tomato, Basil & Garlic
Italian Sauce
1 (10.5 ounce) can Campbell's®
Condensed Beef Broth
2 cups water
1 small eggplant, cut into cubes
1 medium zucchini, cut into cubes
1 large green pepper, chopped
1/2 cup uncooked elbow pasta
Directions
1.Cook the beef in a 4-quart saucepot over medium-high heat until it's well browned, stirring often to break up the meat. Pour off any fat.
2.Stir the sauce, broth, water, eggplant, zucchini and pepper in the saucepot and heat to a boil over medium-high heat. Reduce the heat to low. Cover and cook for 15 minutes.
3.Stir the pasta in the saucepot. Increase the heat to medium and cook for 10 minutes or until the pasta is tender, stirring occasionally.
Nutritional Information
Servings Per Recipe: 5 ,Calories: 365 ,Amount Per Serving :,Total Fat:0.53 oz ,Cholesterol:0.031 grain ,Sodium:0.588 grain ,Total Carbs:1.232 oz ,Dietary Fiber:0.24 oz ,Protein:0.762 oz ,:,