Vegan Lemon Poppy Scones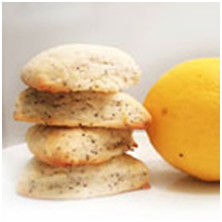 Delicious lemon poppy scones that happen to be vegan. Note, this recipe can be changed up quite easily. And the proportions are pretty forgiving, too.
Categories:
Ingredients
2 cups all-purpose flour
3/4 cup white sugar
4 teaspoons baking powder
1/2 teaspoon salt
3/4 cup margarine
1 lemon, zested and juiced
2 tablespoons poppy seeds
1/2 cup soy milk
1/2 cup water
Directions
1.Preheat the oven to 400 degrees F (200 degrees C). Grease a baking sheet.
2.Sift the flour, sugar, baking powder and salt into a large bowl. Cut in margarine until the mixture is the consistency of large grains of sand. I like to use my hands to rub the margarine into the flour. Stir in poppy seeds, lemon zest and lemon juice. Combine the soy milk and water, and gradually stir into the dry ingredients until the batter is moistened, but still thick like biscuit dough. You may not need all of the liquid.
3.Spoon 1/4 cup sized plops of batter onto the greased baking sheet so they are about 3 inches apart.
4.Bake for 10 to 15 minutes the preheated oven, until golden.
Nutritional Information
Servings Per Recipe: 12 ,Calories:8.472 oz ,Total Fat:0.434 oz ,Cholesterol:0 grain ,Sodium:0.193 grain ,Total Carbs:1.087 oz ,Dietary Fiber:0.042 oz ,Protein:0.106 oz ,:,