Strawberry Oatmeal Breakfast Smoothie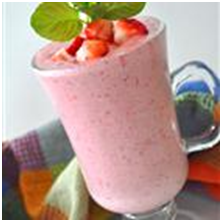 This is a fast and filling vegan smoothie with a deep pink color and a rich, creamy texture.
Categories:
Ingredients
1 cup soy milk
1/2 cup rolled oats
1 banana, broken into chunks
14 frozen strawberries
1/2 teaspoon vanilla extract
1 1/2 teaspoons white sugar
Directions
1.In a blender, combine soy milk, oats, banana and strawberries. Add vanilla and sugar if desired. Blend until smooth. Pour into glasses and serve.
Nutritional Information
Servings Per Recipe: 2 ,Amount Per Serving :,Calories: 236 ,Total Fat:0.131 oz ,Cholesterol:0 grain ,Sodium:0.035 grain ,Total Carbs:1.585 oz ,Dietary Fiber:0.208 oz ,Protein:0.268 oz ,