Summer Berry Parfait with Yogurt and Granola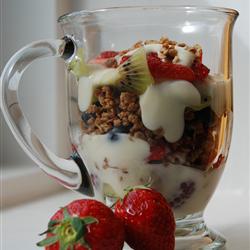 This large parfait can be made for a delicious breakfast - or it can be halved for a yummy snack. Enjoy it using fresh or frozen blueberries, but fresh strawberries are recommended.
Categories:
Ingredients
3/4 cup sliced strawberries
3/4 cup blueberries
1 (6 ounce) container vanilla yogurt
1 tablespoon wheat germ
1/2 banana, sliced
1/3 cup granola
Directions
Layer 1/4 cup strawberries, 1/4 cup blueberries, 1/3 container yogurt, 1/3 tablespoon wheat germ, 1/3 of the sliced banana, and about 2 tablespoons of granola in a large bowl. Continue to build the parfait, repeating the layers until all of the ingredients are used completely.
Nutritional Information
Servings Per Recipe: 1 ,Amount Per Serving :,Calories: 520 ,Total Fat:0.477 oz ,Cholesterol:0.004 grain ,Sodium:0.068 grain ,Total Carbs:3.068 oz ,Dietary Fiber:0.392 oz ,Protein:0.646 oz ,