Summer Zucchini Bites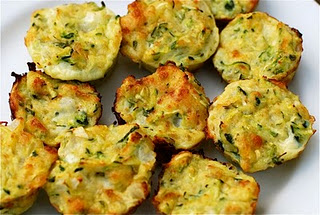 Savory, bite-size treats that can be enjoyed as a snack or an appetizer before a meal.
Categories:
Ingredients
2 cups grated zucchini
2 eggs, lightly beaten
1/2 yellow onion, finely chopped
1/2 cup sharp cheddar, grated
1/2 cup bread crumbs
1/4 cup fresh parsley, finely chopped
Directions
1. Preheat the oven to 400ºF. Butter a mini-muffin tin, set aside.
2. In a large glass bowl add two eggs and beat lightly with a whisk. Then, add the zucchini, onion, cheddar, bread crumbs and parsley and combine them with a wooden spoon.
3. Using your hands or an ice-cream scoop, fill each muffin cup just to the top. Bake for 15-18 minutes or until the top is browned and set.
Nutritional Information
N/A:,