Vegetable-and-Nut Bread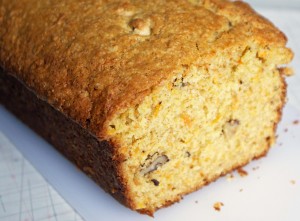 This recipe uses grated raw sweet potato and chopped walnuts. You could alternatively bake the batter as muffins: Prepare as directed, then divide among 12 greased or paper-lined muffin cups and bake at 400°F for 20 to 30 minutes.
Categories:
Ingredients
2 cups all-purpose flour (you can use half whole wheat, half all-purpose)
1 cup sugar
1 1/2 tsp. baking powder
1/2 tsp. baking soda
1/2 tsp. salt
1/4 cup butter, cold and cut into pieces
3/4 cup orange or apple juice or milk
grated zest of an orange or lemon
0.035 oz
1 cup any raw fruit or vegetable: small berries left whole, anything else peeled and grated or chopped (I used grated sweet potato)
1/2 cup chopped walnuts or pecans
Directions
1. Preheat the oven to 350°F. Grease a 9 x 5-inch loaf pan with butter or spray it with nonstick spray.
2. In a large bowl, stir together the dry ingredients. Cut the butter into the dry ingredients using a fork, pastry blender or your fingers, until there are no pieces bigger than a small pea. (You can use a food processor for this step, which makes it quite easy, but you should not use a food processor for the remaining steps or the bread will be tough.)
3. In another bowl whisk together the juice, zest and egg. Pour into the dry ingredients and stir with a spatula just enough to moisten; do not beat and do not mix until the batter is smooth. Fold in the fruit and the nuts, then pour and spoon the batter into the loaf pan. Bake for about an hour, or until the bread is golden and a toothpick inserted in the center comes out clean. Cool on a rack for 15 minutes before removing from the pan. Makes 1 loaf.
Nutritional Information
N/A:,